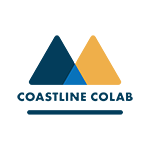 Coastline Colab is a not-for-profit coworking space created for and by the community it serves. Based in the qathet region (Powell River, BC) we seek to lower the barriers for aspiring entrepreneurs, contractors, change makers, and remote workers by offering a shared working space, networking opportunities, business incubation programming, and other entrepreneurial support services and training. We feel that work is about people and ideas and that the spaces we work in should be in support of both. Our coworking space offers a professional yet relaxed office environment that reflects the beauty of our surrounding coast and forests – openness, high ceilings, natural wood, light, good ventilation and comfort. The space consists of individual work stations with ergonomic office chairs, access to a shared meeting room, a stocked kitchenette, and lounge area. Coastline Colab is also the home to the Powell River Entrepreneurial Ecosystem Development (EED) program – a cluster of entrepreneurial support services and training opportunities with a focus on ideation, business planning and incubation services for members and the public alike.
Office Space
Business Development
Co-Working Space
Office Rental
Membership
See a mistake or something missing? Please contact us.
Is this your business? Claim it so you can update your info.